Unlocked by default.
Features
Edit
The MP5 is the one of the starting primary weapons, the others being the
AKS-74U
and the
TOZ-34
. While its stats may seem weak initially, the MP5 becomes quite powerful once fully upgraded, with an accuracy of 50, recoil of 20, fire rate of 850 rounds per minute, and a reload speed of only 1.25 seconds.
Modification
Edit
| Attachment | Cost |
| --- | --- |
| Eotech Sight | 1 |
| Extended Stock | 1 |
| Tactical Grip | 1 |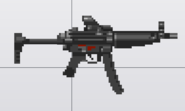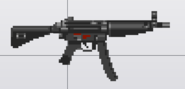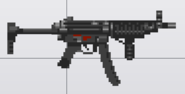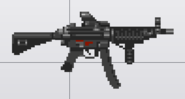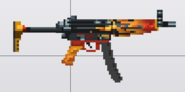 The Heckler & Koch Mp5 ( Maschinen pistole 5 - submachine gun No. 5 ) is part of a family of submachine guns developed by the German small arms manufacturer, Heckler & Koch in the 1960s, based on the design of the popular HK G3 rifle. Most commonly chambered in the 9x19 Parabellum cartridge, it is fed by detachable box magazines with a capacity of 15 or 30 cartridges in a magazine.
The Mp5 is one of the most widely used submachine guns in the world, having been employed by law enforcement, intelligence and security organisations in 40 nations.