Features
Edit
PM - a pistol that is available from the start of the game, it is quite easy to use and a good choice for a beginner player due to good accuracy and high firing speed. The only minus is that the PM adapts to the middle and middle distances.
Modification
Edit
| Modification | Сost |
| --- | --- |
| Enlarged shop | 1 |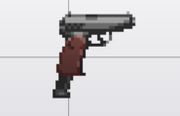 The 
Makarov pistol
 or 
PM
 (Russian: Пистолет Макарова, 
Pistolet Makarova
, literally 
Makarov's Pistol
) is a Russian semi-automatic pistol. Under the project leadership of Nikolay Fyodorovich Makarov, it became the Soviet Union's standard military and police side arm in 1951.